We have a presentation studio in our Great Portland Street offices in Central London. The setup comprises of two high definition cameras and one 4k Camera (more can be added as required), professional lighting and large Plasma style LED screen for either presentations or video link ups to be displayed, for instance if someone is chairing a webinar. We also have the option to greenscreen.

It's specifically designed to supplement your existing platform or production company, offering a half way house between someone presenting from home, and going into a full broadcast studio.
It is all brought together through a video mixer which our computer sees as a webcam, so we are able to stream a slick multi camera/multimedia presentation to whichever video platform you are using, without the clunkiness of screen shares etc.

For those technically minded, the equipment comprises of:
2 X Sony High Definition cameras
1 X Panasonic 4k Camera
Rode Microphones
In ear monitors
Autocue
Soundcraft Mixing Desk
Blackmagic ATME Video switch which enables us to stream to any platform, and switch between sources seamlessly (we have two boxes, so can provide 2 feeds)
42' Panasonic LED TV
Professional lighting
150MB (up and down) Fibre internet line
Do get in touch if you would like to book a virtual tour.
A few examples of successful broadcasts from here:
Image above from a conference we hosted from the studio - Tanya Beckett was greenscreened and we provided two camera feeds to the prodcution centre in Portugal which were superimposed on an impressive set. Read the Case Study here.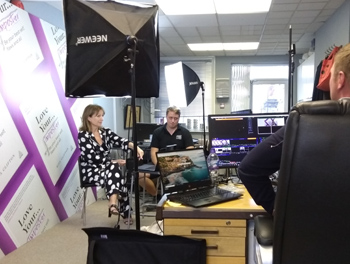 We were delighted to host Rita Clifton's virtual book launch of Love Your Imposter. She presented from the studio, and was joined virtually by a panel of contributors.
Naomi Cooper hosted two awards ceremonies from our studio. Set against greenscreen, she encouraged the live audience to Tweet in pics which were superimposed on the background behind her, while she was able to view them on the Plasma in the studio.
Colin Murray has become a veritable regular in our studio since our very first broadcast back in September '20. As host of 5Live's 10.30pm show, he especially appreciates our proximity to Broadcasting House (he's got it down to 4 mins, including our stairs!).