Acclaimed character comedian Simon Brodkin is the writer and star of BBC Three's ratings success Lee Nelson's Well Good Show. Last year, Lee Nelson starred in a brand new series of Lee Nelson's Well Funny People on BBC Three, which also introduced popular characters such as pitch invading Premier League footballer Jason Bent.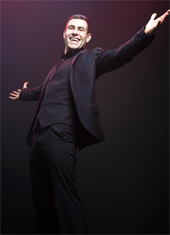 In 2013, Lee's new look was revealed. The character had grown from stripey-teeshirted beginnings into a suited and booted version of Lee, with new anecdotes and observations but still with all his original cheekiness and charm.
Lee Nelson's 2013 tour saw the irrepressible South London lad host a night of unmissable entertainment with legendary audience interaction and appearances from his alter egos. In 2013 he also returned to BBC One's Let's Dance for Comic Relief, reaching the final with an impressive performance of Swan Lake. He is the only person to perform on the show twice and he also sat on the judging panel in 2012.
In 2012, Lee Nelson hosted and appeared on Live at the Apollo as well as releasing his first Live DVD and touring the country. Simon Brodkin's other television and radio credits include Channel 4's Comedy Gala; Absolutely Fabulous; Children In Need; Al Murray's Multiple Personality; Comedy Rocks; Big Brother's Big Mouth; The Wall; Edinburgh and Beyond; and BBC Radio 2's Out To Lunch.
Simon has taken five hit solo shows to the Edinburgh Festival Fringe, where he won the Writer's Guild Award for Best Newcomer. One of these was his Lee Nelson's Well Good Edinbra Show, which sold out and won rave reviews and led to a nationwide tour of Lee Nelson's Well Good Show.
"We were really delighted with Simon/Lee last Thursday at the Best Awards. He went down a storm. He totally understood our advertising audience and played up to it well. The pace for the awards presentation was extremely well measured. We do have quite a lot of awards but it didn't feel rushed and his humour throughout kept it very entertaining. ... Overall I thought Simon/Lee was extremely professional, very funny"